This recipe is definitely one of my family's
faves
. I had completely forgotten about them until the other day and then I couldn't get them out of my mind. So of course I had to make them, and by 9:30 AM they were half gone. oops! haha I may or may not have self control. Here is the recipe, you can thank me later...or be mad at me for the 5lbs you might gain :) Enjoy!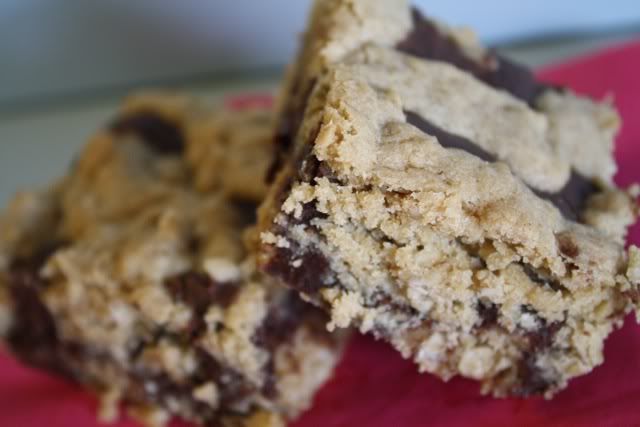 Fudgey Squares
1 pkg. Choc. Chips
1 Can Sweetened Condensed Milk
3 Tbs. Butter
2 tsp. Vanilla
(Melt in pan over very low heat.)
1 C. Butter
2 C. Brown Sugar
2 Eggs
(Cream Together)
2 ½ C. Flour
1 tsp. Baking Powder
1 tsp. Salt
¾ C. Oats
(Stir in to egg/sugar/butter mixture)
Spray 11/14 pan, pat ¾ of mixture into bottom, pour fudge over top, then add remaining ¼ of dough on top in splotches.
Bake at 350 for 20 minutes.
*Here they are all packaged up to take to some friends...You may want to do this before you taste them or you might not have any left...just sayin...
*I got the cute tags here