I decided I needed a spring banner (ha I told you I love them!) I also decided it needed to be out of an old book. So, here is my first shot at doing a tutorial...I actually came up with something by myself...who would have thought?! So here it goes...
-Cut 2 inch strips of an old book (or scrapbook paper would work fine as well)
-I glued four 2-inch strips together, and then fan fold them accordian style (dig deep into those kindergarten projects you did back in the day)
-They should now look like this: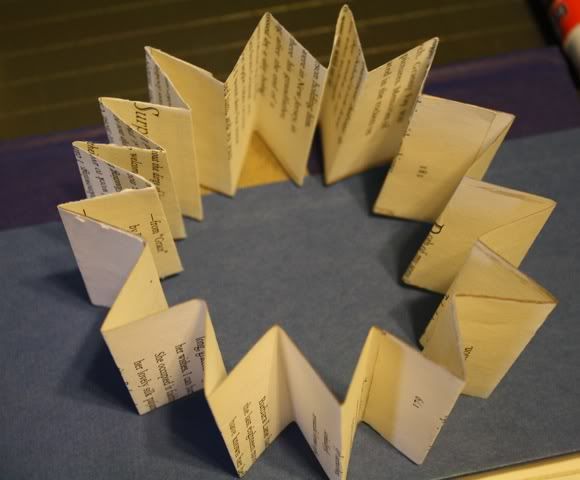 -Cut 2-inch circles out of a cereal box (if you're cheapo like me) or 2-inch circles out of chipboard
-I cut 6 for the letters SPRING (try to keep little chubbo fingers from stealing them :)):
-Cut 2-inch circles out of scrapbook paper in your color choice.
-Print your letters out on cardstock and cut them slightly smaller than the scrapbook letters.
-Glue the letter circle to the scrapbook circle.
-Then, hot glue your chipboard circle to the back of your fan (it's a little awkward to keep it flat but you can do, I promise)
-Hot glue your letters to the front and you will have a stack of cute letters
-Now all you have to do is punch holes, and string with twine/ribbon/whatever you want and VIOLA! You have a new banner that is too cute for words.
-Besides the fact that this thing is fabulous, it was also free because I had the paper, cereal box, and old book already (s
ee book page wreath
) woohoo! Here's the finished product:
*I feel like it finishes of my Easter "Mantle" perfectly, now we have exactly 4 more days to enjoy it!*