My cute friend Laura brought be the cutest 4th of July treat the other day and I decided to copy her and send it to some friends.I know I'm the worst procrastinator ever, but here are my little 4th of July treats. I made these for my
visiting teachees
(except for two are out of town and I didn't drop them by in time...) But these could be cute cupcake toppers or Thank you treats. I first started out with a 8 1/2 by 11 piece of paper and cut it in half.
Then, fan fold it, just like we did in my
Spring Banner Here
. I did about 1/2 inch folds. But play around with it until you get something you like. Then fold your fan in half. Hot glue each end together to make your Pinwheel? (what are these even called??)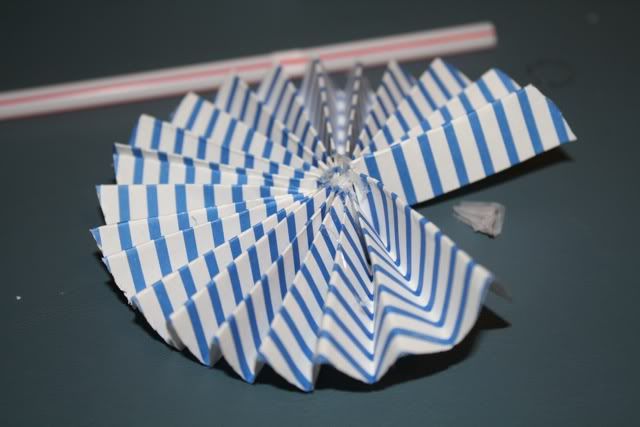 Next, Cut a straw, skewer, dowel or whatever you want to size like so:
Put a big glob of hot glue on the back side to hold the fans together as well as to hold your straw on. (I don't want to talk about the fact that I'm using straws, because that's all I had and I didn't want to go to the store...)
Now hot glue the "Happy 4th of July" Printable to the "pinwheel"
Fill small jars with red and blue candies, I chose peanut m&ms because they are delicious. AND I might have cheated and used other colors on the bottom because I covered them with scrapbook paper and fabric scraps. (Remember, I didn't want to go to the store?)
Attach a little note and deliver to a friend!
Now you have a fun little gift for 4th of July. You have about 2 days to actually use this, but there have got to be other procrastinators out there like me, right?? Please tell me your one of them! :) I included my Fourth of July Printable if anyone would like to use it! Please let me know if I did this wrong because this would be my first time trying this...I'm pretty sure you can right click and save it to your computer...Easy Peasy. I hope everyone has a great long weekend!!