This is a Sponsored post written by me on behalf of Dollar General for SocialSpark. All opinions are 100% mine.
When I was contacted by Dollar General I genuinely was surprised! I see Dollar General stores all over the place but I had no idea they had clothes! And they have some really cute ones too! Who knew?? I scrolled through the Dollar General Apparel Book and they have some super cute options. They have everything from Headbands, flip flops, baby rompers, maxi dresses, striped tanks & tees, phone covers...etc. Perfect options for summer! And they of course are super affordable.  Everything is priced right around ten bucks. That means I can buy twice as much right?? I loved the little girl clothes and think my girls would love them too. Here are a couple of my favorites that I spotted...
I feel like Miss B & R would love this cute little summer dress. They are obsessed with dresses in the summer and it helps keep them cool when it's 115 degrees outside. Yikes! I'm not looking forward to that heat again...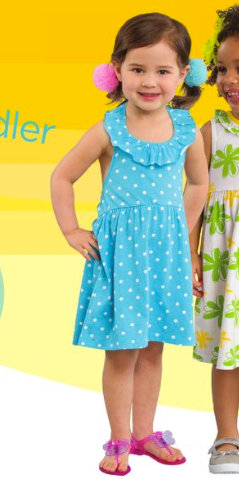 I want this little romper for Miss E. CUUUTE! This would be perfect for days at the pool...She could totally pull this off at the movies or the mall too. Adorable.
Social Media like Twitter & Facebook is fabulous and the best way to see what's happening at all your favorite stores so make sure you go follow Dollar General to keep up with the latest & greatest going on!